Houston Goalkeeper Training
Learn the RTG Way With Our Houston Goalkeeper Program
At RTG Academy, we offer an extensive Houston goalkeeper training program that focuses on developing the technical, tactical, physical, and mental abilities of young players. Our comprehensive curriculum has been designed to help aspiring goalkeepers reach their peak performance, becoming top-level goalkeepers. If you would like to learn more about this training program, please contact us today!
Our Houston Goalkeeper Coaches and Mentors
Our professional staff of hand-picked goalkeeping mentors and coaches, who have extensive experience in the game and believe in the RTG Way, lead our program. With opening words and a review of the fundamentals, they begin each session with warm-ups to set our players up to become the best goalkeepers they can be. Mentorship and knowledge are used to motivate and encourage the players to set them up for long-term success.
Learn the Art of Goalkeeping
At RTG Academy, we strive to provide a stimulating and challenging learning experience for all our goalkeepers. Our mission is to spread joy and enthusiasm through the art of goalkeeping. We urge our players to take risks and think independently. We emphasize the necessity of technique and consistency in the sport and focus on the development of each goalkeeper's technical skills.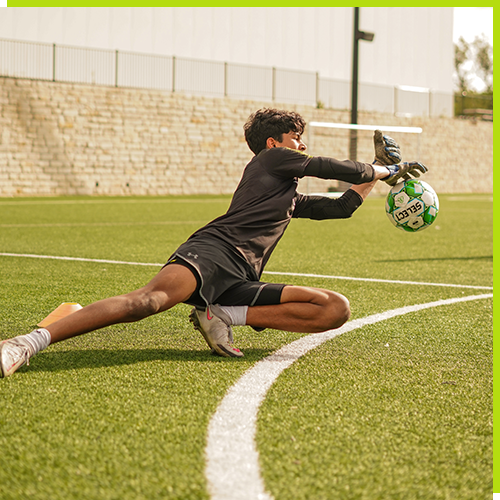 The Value of Teamwork
Our goalkeeper program puts a strong emphasis on the value teamwork and collaboration. This program encourages players to work together, learn from each other and create long-lasting relationships with their teammates. The aim of our program is to make a setting where players can grow and take pleasure in the game.
Sign Up For Our Program Today
At RTG Academy, we strive to provide young players the opportunity to reach their goals and hone their skills to become the best they can be. Our Houston goalkeeper training program is a great way to elevate their game and help them become an elite goalkeeper. Get in touch with us today to find out more about our Houston goalkeeping training.